All Original Content Copyright © 2000-2022 Chrono Shock. Chrono Shock is in no way affiliated with nor sponsored by Square Enix Co., Ltd. Chrono Trigger & Chrono Cross are registered trademarks of Square Enix Co., Ltd.
COPYRIGHT NOTICE
All web site materials, including, but not limited to, its design, text, original graphics, original screenshots, files, and the selection and arrangement thereof Copyright © 1998, 1999, 2000, 2001, 2002, 2003, 2004, 2005 CTZA, CCI, CS. NO MATERIALS ON THIS SITE MAY BE USED OR LINKED DIRECTLY BY ANY OTHER WEB SITES, PUBLISHED, OR OTHERWISE PERFORMED IN PUBLIC. ALL PAGE HEADERS, CUSTOM GRAPHICS, BUTTON ICONS, AND SCRIPTS ARE PROPERTIES OF CS; UNLESS OTHERWISE SPECIFIED. All other trademarks, product names and company names or logos cited herein are the property of their respective owners.
Addendum I:
If you plan on using any original CS informations, paraphrase it using your own words — do not copy any site layouts or original informations word for word and claim it as your own. That is plagiarism and will be delt with accordingly. The only thing I ask for is giving us proper credit, preferably a link back (http://www.chronoshock.com), not much.
Addendum II:
Web masters/mistresses may use any public domain graphics (images that were not originally created by us) or screenshots found at this site so long you upload the images to your own server, leaving the image(s) UNALTERED.
You may
not
, however, use our custom images that were created exclusively for CS.
DISCLAIMER
Except as otherwise provided, the materials in this site are provided on an "as is" basis without warranties and conditions of any kind either express or implied. To the fullest extent permissible, CS disclaims all other representations, conditions, and warranties, express or implied, including, but not limited to, implied warranties of merchantability, fitness for a particular function, title and non-infringement.
In addition, CS does not represent or warrant that materials obtained from this site are without error or otherwise are accurate, complete, reliable, or current. Materials, including documents and graphics, contained in this site may include technical inaccuracies, omissions, or other errors. CS does not represent or warrant that this site or its server(s) are free of viruses or other harmful components. CS reserve the right to change any and all content contained in its web site at any time without notice.
CS makes no claim or representation, and accepts no responsibility, regarding the quality, content, nature, or reliability of sites accessible by hyperlink from this web site, or sites linking to this web site.
LIMITATION OF LIABILITY
UNDER NO CIRCUMSTANCES, INCLUDING, BUT NOT LIMITED TO, NEGLIGENCE, SHALL CS BE LIABLE FOR ANY SPECIAL OR CONSEQUENTIAL DAMAGES THAT RESULT FROM THE USE OF, OR THE INABILITY OF USE, THE MATERIALS IN THIS SITE INCLUDING, WITHOUT LIMITATION, ANY LOST PROFITS, BUSINESS INTERRUPTION, LOSS OF DATA SENSITIVE MATERIALS ON YOUR SYSTEM OR OTHERWISE, EVEN IF WE ARE ADVISED OF THE POSSIBILITY OF SUCH DAMAGES.
CS and its affiliates are deeply committed to protecting the privacy of Internet users. Below is information outlining our continued support for the responsible management of visitor information.
CS does not distribute any personal information of its registered users to third parties except as needed to prevent spammers and illegal activity. However, CS may release this information if required by law, to enforce its terms of service, or to protect the rights, property or safety of CS, its registered users, or others. This may, or may not apply with our affiliated sites.
Visitor Information
During your visit, CS does not collect any personally identifiable information about you such as name, address, phone number, or e-mail address. However, CS does obtain some types of non-personally identifiable information such as the Internet Service Provider you use to connect to the Internet, your browser type, or the type of computer operating system you use (Macintosh or Windows, for example). The information collected by CS is used for the purpose of generating reports for our own personal use to enhance future visits to our website.
Bulletin Board
The registration process is designed so that you can keep a unique identity. The only required parts to the registration process is the 'Membername' and 'Email address'. There is an option to keep this email address private if you wish. The bulletin board administrator will take all reasonable measures to ensure that any information you provide confidentially is kept confidential. You may change this information at any time by editing your profile.
Postings
The board administrator(s) cannot be held responsible for the content of posted messages on the forums.
Cookies
The bulletin board software utilizes cookie technology to store your user-name and keep track of the messages you have participated for your own convenience.
Bulletin Board Security
CS has taken all reasonable steps to ensure that there is sufficient security in place to stop external misuse of any and all information that you provide.
IP Address
When you register and when you make a post - your IP address is stored on our server. This protects you as a member and us as an organization when identifying that the user who posted is indeed authentic. This information will only be used if you misuse any features on the board or in any dispute. The board administrator is able to ban by IP address.
Shout at each other here
Add Shout
---
"Chrono. Shock. Forums!"
"All your base are belong to us!"
"Not the Golden Nu!!!"
"Follow the Golden Nu..."
"FUS RO DAH!"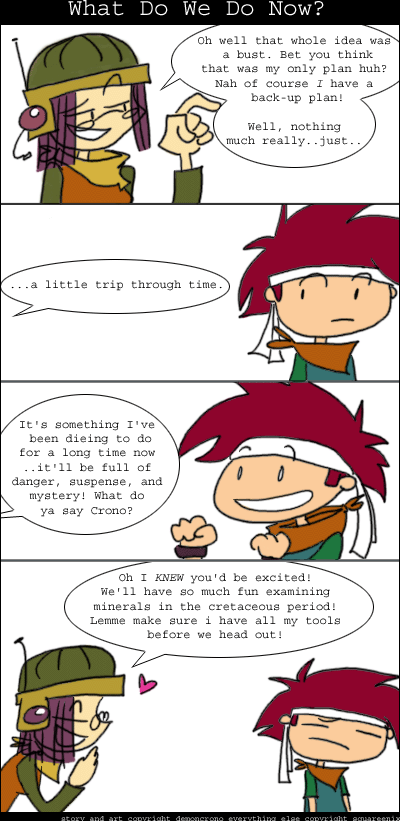 Comic #006
By: DemonCrono
Poll goes here
Historical affiliates, hosted by the Internet Archive:
Just kidding. Haha! No ads on this site.