« All Blog Posts
Plans - Next 2 Weeks
Author: Agent923
We've been getting off to a shakey start here at Chrono Shock but we would like to update you on the plans we have in store for the next 2 or so weeks...

Well now that the forums are totally done, at least for now, I will be adding lots of different little things whenever I feel like it.

Agent's Projects

Well right now I have to clean up the Chrono Trigger section however much I can.

We are having a media transfer rate problem right now and that will be corrected as soon as I have time to do so. Then you can download without disruption.

Also we will most likely be considering staff applications soon, if you have sent us one right lately, we have dis-regarded it at the moment because we don't want to be troubled by them at this time. But we will let you know when we will be considering staff applications.

Dice's Projects

Dice's 1 priority right now is working on more content for Chrono Cross. This is a long and sometimes tedious process because we are making it from scratch but he is working his hardest to get more info.

I think that is about it for the next 2 weeks or so, thanks for your continuing support and please spread the word about Chrono Shock.
Shout at each other here
Add Shout
---
"Chrono. Shock. Forums!"
"All your base are belong to us!"
"Not the Golden Nu!!!"
"Follow the Golden Nu..."
"FUS RO DAH!"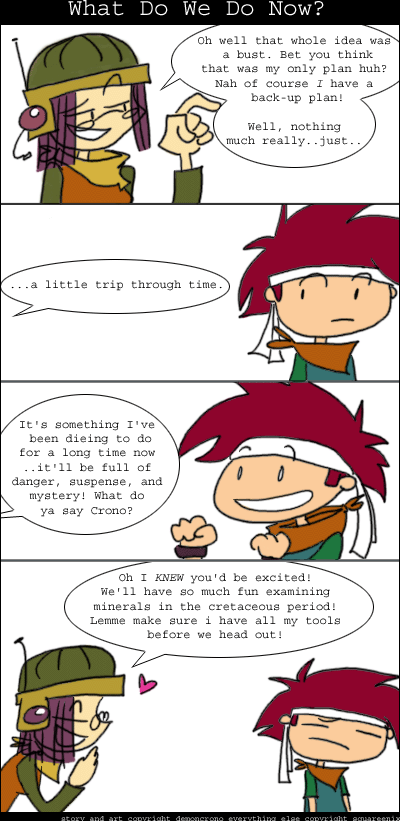 Comic #006
By: DemonCrono
Poll goes here
Historical affiliates, hosted by the Internet Archive:
Just kidding. Haha! No ads on this site.