« All Blog Posts
Chrono Trigger PSX CONFIRMED!!!!
Author: Agent923
Previously dismissed as rumors without confirmation finally a confirmation from Square on a release date for
Chrono Trigger PSX. It will be hitting stores in Mid July...
Even though Chrono Trigger is not a Final Fantasy, it is gonna be released alongside Final Fantasy IV in a compilation called
Final Fantasy Chronicles
. Both games will feature new scenes not seen in the originals. Also, each game will include extra features such as the omake mode found in
Final Fantasy Anthology
.
Remember back a couple months when Square asked it's fans to e-mail them and give their support for the re-release of these games? Well they heard you. Jun Iwasaki, president of Square Electronic Arts..."Since the release of Chrono Cross last August, we've received an overwhelming number of fan requests to re-release Chrono Trigger for the PlayStation game console. My thanks to the many fans who e-mailed Square and told them to re-release it.
The long wait is over my friends...Square has finally come through and listened to it's fans. Start saving your money now.
Source
: [link]="
http://psx.ign.com/news/33510.html"]IGN
PSX
Shout at each other here
Add Shout
---
"Chrono. Shock. Forums!"
"All your base are belong to us!"
"Not the Golden Nu!!!"
"Follow the Golden Nu..."
"FUS RO DAH!"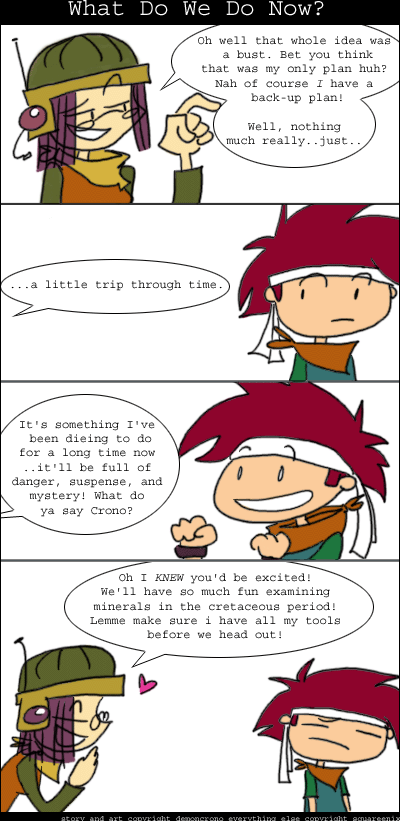 Comic #006
By: DemonCrono
Poll goes here
Historical affiliates, hosted by the Internet Archive:
Just kidding. Haha! No ads on this site.