« All Blog Posts
New Harvest Moon 3 Details Announced
Author: Enematex
PS2 farmers rejoice by throwing a "Winter Festival"...

While Victor Interactive unveiled the newest installment of Harvest Moon at the resent Tokyo Game Show,
in-game screen shots have finally been released to the gaming public. The game will official be called
Harvest Moon 3, and won't be too different from the Super Nintendo, Game Boy, and PlayStation One versions.
Graphically, it will be in three dimensions, but all characters will be cell-shaded, giving much of the game a
unique "Parappa" style.

A few gameplay changes have also been announced. While traditionally the game
has a three year deadline, HM3 will allow the player to accomplish his goals in anywhere from one to ten years.
The player's pet dog also now plays a more important role in the story, and can learn new tricks throughout the game.
The dating aspect will be more emphasized than previous versions as well, although marriage reportedly will not
be an option. Natsume has not announced an American release, although it is almost a guaranteed.
Harvest Moon 3 is set to be released in Japan on July 13.
Shout at each other here
Add Shout
---
"Chrono. Shock. Forums!"
"All your base are belong to us!"
"Not the Golden Nu!!!"
"Follow the Golden Nu..."
"FUS RO DAH!"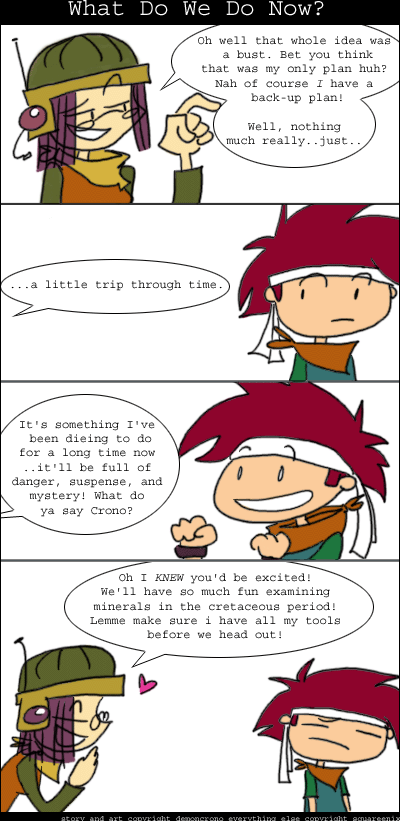 Comic #006
By: DemonCrono
Poll goes here
Historical affiliates, hosted by the Internet Archive:
Just kidding. Haha! No ads on this site.