« All Blog Posts
New Info on GBC Lufia Title
Author: Enematex
Nintendo Power gives the latest scoop about the battle system and random dungeons of Lufia: The Legend Returns...

The latest issue of Nintendo Power provides some more information on Lufia: The Legend Returns, the upcoming Game Boy
Color title. The main character, who will probably be named Wein, starts the game in his hometown of Patos.
It is there that he recruits Seena, a female companion, and starts his journey to defeat the familiar Sinistrals.

Although the plot certainly seems familiar to Lufia fans, one thing will be changed drastically- every dugeon
will be randomly generated. This, of course, eliminates many puzzle possibilities that made the series popular.
On the good side, however, it multiplies the game's replay value several times over, which is important for a
Game Boy title. Remaining in the game are Wein's ability to use his sword and other moves to physically affect
the dungeon, as well as the monster system.

The battle system has also changed. The player will be able
to use nine party members in battle, and each character will have a spot on a 9X9 grid. Each character's
Spiritual Force, or their ability to use magic, will determine where s/he is placed.

While the most
traditional Lufia fans may be disapointed, L:TLR looks like it will be a solid GBC title that will satisfy
both new and old fans. Expect to see it in stores "early summer".
Shout at each other here
Add Shout
---
"Chrono. Shock. Forums!"
"All your base are belong to us!"
"Not the Golden Nu!!!"
"Follow the Golden Nu..."
"FUS RO DAH!"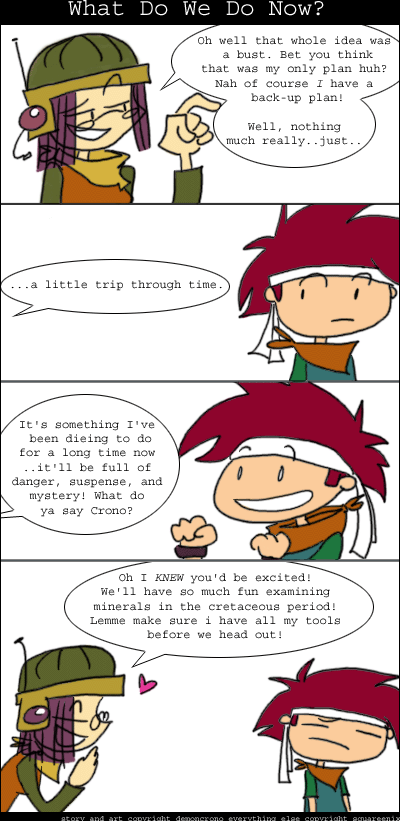 Comic #006
By: DemonCrono
Poll goes here
Historical affiliates, hosted by the Internet Archive:
Just kidding. Haha! No ads on this site.