« All Blog Posts
Final Fantasy IX rakes in the awards at GDC 2001
Author: TJagger
Final Fantasy IX won three awards at GDC 2001, and Square is very pleased with these results. To find out more, read on...

Final Fantasy IX has made its way into millions of homes world wide, and is known as one of the greater RPG's made. It has impressed almost everyone who has played it, and it looks like it has wormed it's way into being a superstar RPG, as shown by the awards it won at GDC only 2 nights ago...

The awards given to Square for
Final Fantasy IX are major ones, and Square deserves it, as LOTS of work was put into FFIX to make it as great
an RPG as it is. With no further interruptions, I bring you the awards won by FFIX

Most importantly,
and first of all, it won the title of "Console Role Playing Game of the Year", which is a very huge title to
win, but FFIX took it swiftly, as most other RPG's did'nt even cut it close. Some of Square's other titles might
have taken the award home (Chrono Cross!), but it did not happen. The award was presented by representatives
of the Academy of interactive Arts and Sciences...

Secondly, FFIX recieved an award for "Outstanding
Achievement in Art Direction", and then again for "Outstanding Achievement in Animation", which refers to the
FMV sequences, and the variou other artistic elements of the game. And in my opinion, they were superb.

Jun Iwasaki was the reciever of the awards at the GDC for Square, as he is the President of Square EA.
He humbly accepted the awards, and gave a sincere grateful thank you as seen here. He said:
"On behalf of the Final Fantasy IX development team, I would like to thank the Academy for the awards. We are honored that our distinguished peers have chosen Final Fantasy IX from the many quality titles released in the past year. Squaresoft hopes to continue to deliver compelling titles to the North American market. Thank you
again to our industry peers and, of course, our many fans who made these awards possible."

Other Squaresoft titles nominated included "Console Action/Adventure Game of the Year" for Vagrant Story;
"Console Game of the Year" for Chrono Cross; "Console Role Playing Game of the Year" for Chrono Cross;
and "Game of the Year 2001" for Chrono Cross.

In other words, if Final Fantasy IX had'nt won all those juicy awards, Chrono Cross would have been next in line to gobble them up. This, for CC Fanatics, would have been awesome.

But, Final Fantasy IX has stolen the show. Over one million copies of FFIX have been sold since November of 2000. The total Final Fantasy series from FFI to FFIX has had over 30 million games sold, making FF a very well known name among gamers, as will be to come for many years ahead in the future, if all goes well for Square...
With these results, who knows what Square will throw at the gaming industry next that will capture our imaginations, and truly entwine us in the RPG experience.
Shout at each other here
Add Shout
---
"Chrono. Shock. Forums!"
"All your base are belong to us!"
"Not the Golden Nu!!!"
"Follow the Golden Nu..."
"FUS RO DAH!"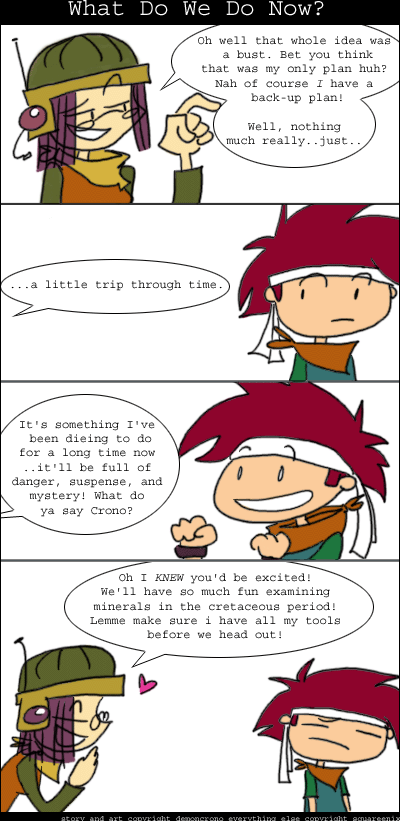 Comic #006
By: DemonCrono
Poll goes here
Historical affiliates, hosted by the Internet Archive:
Just kidding. Haha! No ads on this site.