« All Blog Posts
President of Sega, Isao Okawa, Passes Away...
Author: TJagger
At the age of 74, the president of Sega passed away yesterday, March 16th, 2001...

This is quite a hard news post for me, as, well, ANY death just makes me sad, but here I go...

Sega officially announced these few short words...

"Sega of America regretfully announces that Isao Okawa, chairman and president of Sega Corporation, passed away on March 16, 2001, at 3:47pm due to heart failure at the Tokyo University Medical Hospital. A private vigil is scheduled for his family, and company funeral services are being planned."

To gamers, this is quite big news...

He did a lot for the floundering Sega, as we all remember when Sega was in debt, and forced bankruptcy upon themselves. This was one of the factors that caused the fall of the Sega Saturn, and a big one at that. Okawa donated Sega 81.6 million dollars to help their financial status, and this was crucial to the refounding of Sega...

Just think, without Okawa, the beginnings of next generation systems, specifically the Dreamcast, would probably not be available, unless by freak chance Sega found a way out of the financial spiral into the void called non-existance. So think of that all you Sega/Dreamcast fans... It's food for thought...

Well, alas, I leave you, the reader once again, but I hope you will take some of your time and remember Isao Okawa, who did quite a lot for Sega...
Shout at each other here
Add Shout
---
"Chrono. Shock. Forums!"
"All your base are belong to us!"
"Not the Golden Nu!!!"
"Follow the Golden Nu..."
"FUS RO DAH!"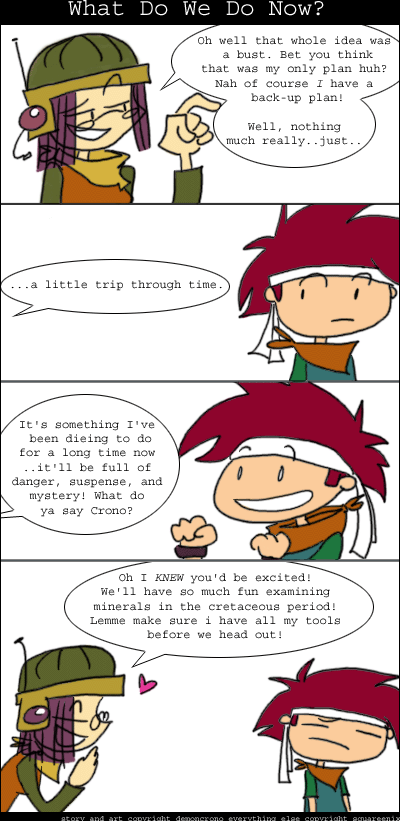 Comic #006
By: DemonCrono
Poll goes here
Historical affiliates, hosted by the Internet Archive:
Just kidding. Haha! No ads on this site.