« All Blog Posts
Details on Square's new "SaGa" game announced.
Author: TJagger
Square has just released new information about the next RPG in the SaGa series, WildCard, to be made for the WonderSwan...

Well, Square has announced details on the new SaGa game, and it will be released for the WonderSwan in Japan sometime around March 29th.

The new SaGa game is called WildCard, and will be an RPG, but not a traditional one as you might think. The new installment into the SaGa series is a RPG based around "Scenario Cards". The cards are like keys, in that they open up new paths for the gamer to explore, and there are over 100 in the game to collect and use, but not all of them can be recovereed in the first time through the game, making the replay value of WildCard just a little bit higher. "Scenario Cards" are collected by talking to individual Non-Playable Characters in different towns and places, and as mentioned above, might reveal a new path or mission...

WildCard is different in that it will have no overworld, or field map, and the only way to get around will be by way of card. Once in a while, the gamer may come across a locked door, or gate, etc. These will have to be opened by "Skill Cards", found elsewhere in the game...

Battles in this portable RPG are also controlled by cards. Magic will be cast by "Magic Cards", Techniques will be thrown at the enemy by using "Technique Cards", and so on. To win a battle, one must try to decrease the amount of enemy cards the monster has until it reaches zero, by successfully attacking the monster various times...

WildCard will have 9 different characters you will possibly be able to coax into your party, but you may not have all nine in your party at once. Four different playable characters will join your party at different times in the game, depending on what you answer to questions at the beggining of the game.

As said at the top of this news post, Square plans to release WildCard for the WonderSwan Color on March 29th in Japan, but unfortunatly, no date for a North American release has been announced.
Shout at each other here
Add Shout
---
"Chrono. Shock. Forums!"
"All your base are belong to us!"
"Not the Golden Nu!!!"
"Follow the Golden Nu..."
"FUS RO DAH!"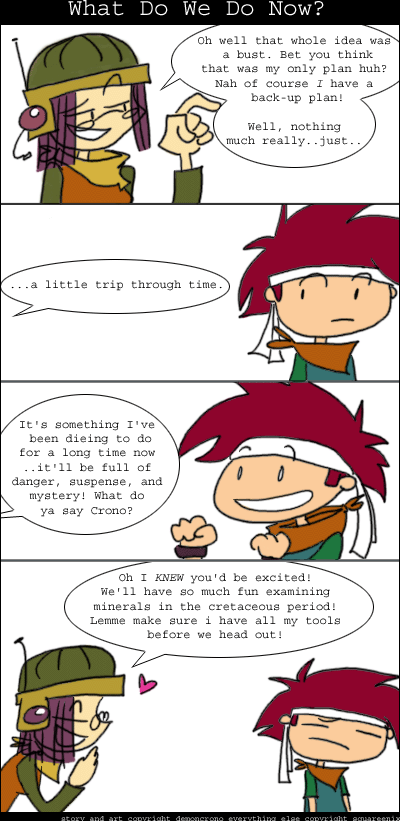 Comic #006
By: DemonCrono
Poll goes here
Historical affiliates, hosted by the Internet Archive:
Just kidding. Haha! No ads on this site.