« All Blog Posts
Square to release new CD, help gamers cheat again
Author: Enematex
Like to groove to classic FF tunes? Upset by lack of strategy guides for FFIX? Turn, cough, click, read.

Square recently announced their newest Final Fantasy audio collection: a CD entitled "POTION- Relaxing With Final Fantasy",
which will be a 17-track compilation of songs from FFIII, FFIV, FFV, FFVI, FFVII, and FFVIII.
The CD will be released by Sony Music Entertainment.

In other news, after taking a hiatus to experiment with a
free online strategy guide ("Online Ultimania") with Final Fantasy IX, Square will reportedly publish a traditional guide
for Final Fantasy X. Square claims that the lack of a published guide severly hurt FFIX's sales.
FFIX is currently ranked seventh on the 'Top 10 US PSX Sales' chart compiled weekly by PCData. It is not present on the
'Top 10 US Console Sales' chart also compiled by PCData. As of this week FFIX's total sales are still under 3 million,
which is a dissapointing figure for such a large franchise.
Shout at each other here
Add Shout
---
"Chrono. Shock. Forums!"
"All your base are belong to us!"
"Not the Golden Nu!!!"
"Follow the Golden Nu..."
"FUS RO DAH!"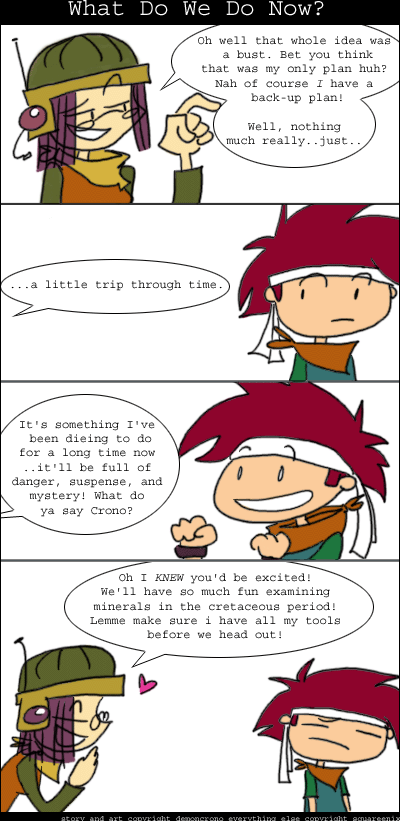 Comic #006
By: DemonCrono
Poll goes here
Historical affiliates, hosted by the Internet Archive:
Just kidding. Haha! No ads on this site.