« All Blog Posts
Square announces first-ever losses!
Author: TJagger
In the 1st quarter of 2001, Square brings in its first negative finance report of the company's history...

In all of Square's history, the company is submitting its first-time ever negative earnings report. Square is quite upset about this fiasco, and is reorganizing the company with intention that this will not happen in the second quarter. Three Square executives, the President of SquareSoft Tomoyuki Takeshi, Vice President Hironobu Sakaguchi, and the CEO of SquareSoft, Masashi Hiramatsu, have all resigned to take lower positions in the RPG gaming powerhouse.
The positions taken by the three former leaders will be as the following:
Takechi will take the role of contractual consultant, Sakaguchi will become executive gaming producer, and Hiramatsu takes the job of the executive director. The individuals stepped down from their higher ranks in Square because they felt it was the traditional right thing to do. No word has yet been spoken on who will replace the three executives, but there will be new ones soon.
The company blames most of the money losses on the highly controversial PlayOnline development delays, and on the making of the movie Final Fantasy: The Spirits Within.
However, with new corporate planning, Square knows this is only a minor setback in the company's ultimate surge towards RPG supremacy.
Shout at each other here
Add Shout
---
"Chrono. Shock. Forums!"
"All your base are belong to us!"
"Not the Golden Nu!!!"
"Follow the Golden Nu..."
"FUS RO DAH!"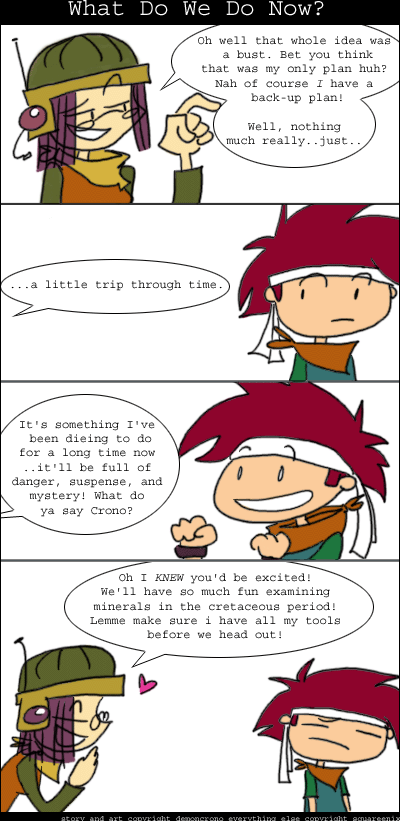 Comic #006
By: DemonCrono
Poll goes here
Historical affiliates, hosted by the Internet Archive:
Just kidding. Haha! No ads on this site.