« All Blog Posts
Greetings from: Agent923
Author: Agent923
Hey everyone, sorry for deceiving most of you for a couple months. I really wasn't busy with anything except making this site...

Phew!! Finally me and dicetomato made our deadline. It has been an extremely long journey to get this site open. We made the decision to close Chrono Cross Infinity awhile ago and ever since then we have been working like crazy on Chrono Shock.

It late 1999 Me (Agent923), Spire, Zoom and dicetomato wished to make a site just like this but our efforts failed. Chrono Infinity as it was known then collapsed. Ever since then we wanted to duplicate that effort and now before your eyes you see our accomplishment.

Personally I would like to thank a couple people:

Dicetomato: Excellent work on the design, thanks for doing that while I worked like crazy on the content and other small site things.

Mist Chicken: Thanks for showing me some last minute DHTML.

CTZA Fans: Hey it been a long time since an update eh? Well this will probably redeem myself for not making a update at CTZA while I was working on this.

Gamesquad: For hosting Chrono Shock obviously.


All our current affiliates and anyone else I may have forgot while typing this thanks for your support in the past.

With Chrono Trigger Zeal Archive now closed and CCI a definate failure we present our greatest achievement to date, Chrono Shock.

On a side note the site is very new so there is obviously bugs please be patient as we correct them little by little.
Shout at each other here
Add Shout
---
"Chrono. Shock. Forums!"
"All your base are belong to us!"
"Not the Golden Nu!!!"
"Follow the Golden Nu..."
"FUS RO DAH!"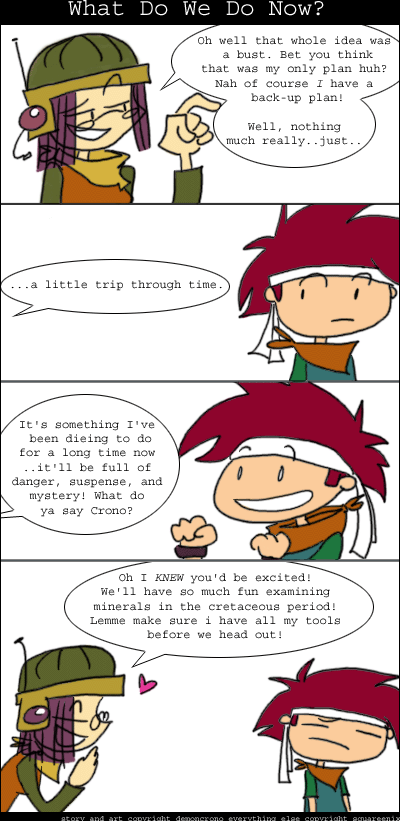 Comic #006
By: DemonCrono
Poll goes here
Historical affiliates, hosted by the Internet Archive:
Just kidding. Haha! No ads on this site.