« All Blog Posts
Chrono Trigger North American Bound?
Author: Agent923
Rumors have been flying for over a month now but does that mean Square is really looking into bring Chrono Trigger PSX over to North America?

If you have been checking the major gaming news sites lately you have probably seen "Square plans to bring Chrono Trigger PSX to North America" or something to that effect.

I am looking forward to a Chrono Trigger PSX release as much as any die hard Chrono Trigger fan but rumors are rumors and until square makes a official announcement I won't truly 100% believe any of the rumors.

New news concerns companies who are close to Square. They are reporting that Square WILL bring Chrono Trigger PSX to North America. The report further goes on to say that they will bring it out in early to middle 2001. Whatever the case Chrono Shock will be there will all the news reports and media that comes our way.

For those of your just finding out about Chrono Trigger PSX then here is a little overview. The new "remake" contains new anime sequences throughout the game, unlike the Final Fantasy Anthology which just had one big movie at the beginning and end. It will also contain an "omake" mode which has extra stats on your game (battles fought, enemies killed, etc).
Shout at each other here
Add Shout
---
"Chrono. Shock. Forums!"
"All your base are belong to us!"
"Not the Golden Nu!!!"
"Follow the Golden Nu..."
"FUS RO DAH!"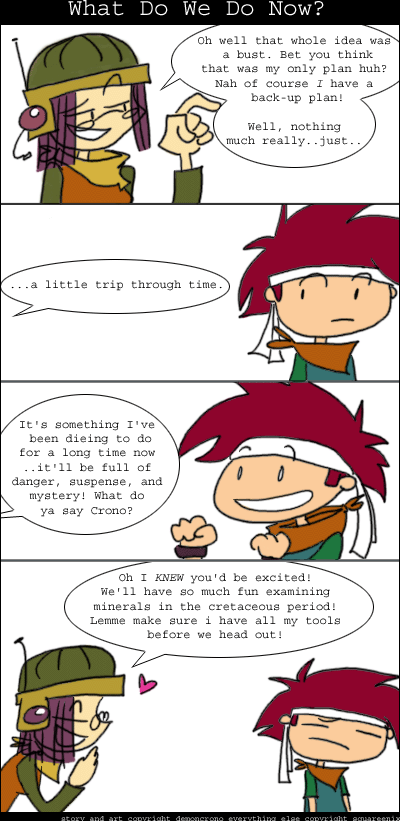 Comic #006
By: DemonCrono
Poll goes here
Historical affiliates, hosted by the Internet Archive:
Just kidding. Haha! No ads on this site.