« All Blog Posts
Merry Christmas!!
Author: Agent923
Its that time of year again and this holiday we are gonna be doing alot of work on Chrono Shock. Can you ask for a better Chrono present? Well maybe you want CT: PSX more...anyway...

First of all I would like to give out the seasonal "Merry Christmas" to all our supporters.

Here is what to expect from me, Agent923, this holiday season. Dice's report should follow soon.

Chrono Trigger Section

Alot of small updates are taking place this holiday, mostly in the Fanfic section which will soon see a massive overhaul and a huge update in the next few days.

Some news you people won't like, we are gonna remove all MP3s from the site. Use these last few days to download them because after that you can't get them at Chrono Shock. This move was made after decision that if ever in the case Square or any other gaming site affiliated with Square found out about our illegal files they would destroy this site. That is why we are removing the MP3s.

Same goes for Emulators however Emulator support and Chrono Trigger questions from emulators will continue!

Chrono Shock Main Section

This part of the site will see lots of small changes in the next 2 weeks. Stay tuned for these.

Chrono Shock Forums

Everything seems to be working fine now. I will probably be adding some new add-ons to the forums. You will like them!

That is basically what I am doing this holiday season to continue to make this site the supreme site for the Chrono series.

--Agent923
Shout at each other here
Add Shout
---
"Chrono. Shock. Forums!"
"All your base are belong to us!"
"Not the Golden Nu!!!"
"Follow the Golden Nu..."
"FUS RO DAH!"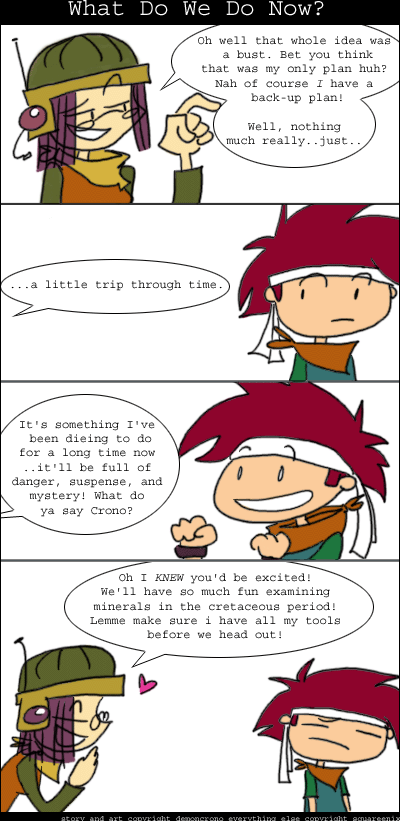 Comic #006
By: DemonCrono
Poll goes here
Historical affiliates, hosted by the Internet Archive:
Just kidding. Haha! No ads on this site.