« All Blog Posts
A Chrono Trigger "Mixtape"
Author: Staff
Bored? Want to listen to mashups of Chrono Trigger music and 1990s rap? Of course you do!
Check it out on the Compendium:
link
.
The full story, copied from the creator's site: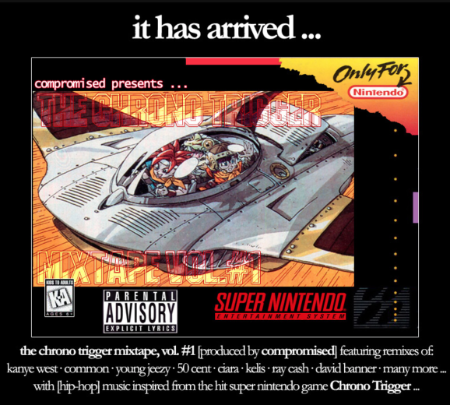 about the mixtape:
greetings downloaders,
my name is ali, and i've been bombarded with email and requests for explanation and the like since the mixtape went up a few days ago, so here's my attempt to clarify things a bit, and also give you folks a little bit of insight ...
about the mixtape:
the chrono trigger mixtape was created by los angeles-based production duo "compromised" (which i am a part of). two weeks ago as i was bed-ridden with the flu, i thought it'd be funny if i went ahead and did what i always joked to my friends about, which was to turn chrono trigger, a super nintendo rpg i grew up with, into a stereotypical hip-hop mixtape. the actual "joke" would be all the annoying flair of a hip-hop mixtape, including (but not limited to) and incredibly annoying host, yelling all over the records with a ridiculous delay effect over his voice, terrible song selection, etc. so over the course of two days i did the entire mixtape, minus the milkshake remix, which our boy jc did, i got the url to add an extra comedic effect, and i debuted it to my boys the night before it got uploaded. that's where we added the host you guys love to hate, DJ Epoch. DJ Epoch had nothing to do with the creation of this project. he is merely a name to the annoying voice. that is not my voice. and now, for the FAQ ...
why did you pick such "terrible" music?
because it was utterly hilarious to hear young jeezy and ray cash over emotionally-charged super nintendo music. no, i don't listen to the artists on the mixtape (except EPMD) and i know you hate the artists on there (and i know you hate DJ Epoch). so now that i've acknowledged that, you can stop emailing me about it.
what's the next one gonna be?
*shrug* i have a real-life music career, too, so i'd have to find a day or two to do another one. when it's done though, rest assured you'll: a) recognize the source b) probably hate the artists used c) have a version ready when it's up without the host.
how'd you do it?
i sampled the game music, made it into a beat, and then cut up an acappella from an artists a majority of you folks hate, and i placed it on the beat.
can i hear your real music?
compro's production work? it's still in the pipeline, so you hip-hop heads will get to hear what we do seriously, shortly. jc's?
http://www.myspace.com/jc
. ali haeri (my solo artist work)? certainly you can. the following sites should help you out:
http://www.cubarecordings.com/
,
http://www.djdownload.com/
, or
http://www.discogs.com/
. my artist site is temporarily down but it's
http://www.djalihaeri.com/
when it's up.
check back with the site often. the instrumentals version fo the mixtape will be up shortly, and whatever is gonna follow up the chorno trigger mixtape will be done and out by next month, latest (really, folks, it's not that much work). also support tswites.com, as it's the only service that would ahve been able to handle 10,000 hits in 2 days, and 50 gigs of data transfer.
thanks again, folks,
peace.
ali [of compromised]
Shout at each other here
Add Shout
---
"Chrono. Shock. Forums!"
"All your base are belong to us!"
"Not the Golden Nu!!!"
"Follow the Golden Nu..."
"FUS RO DAH!"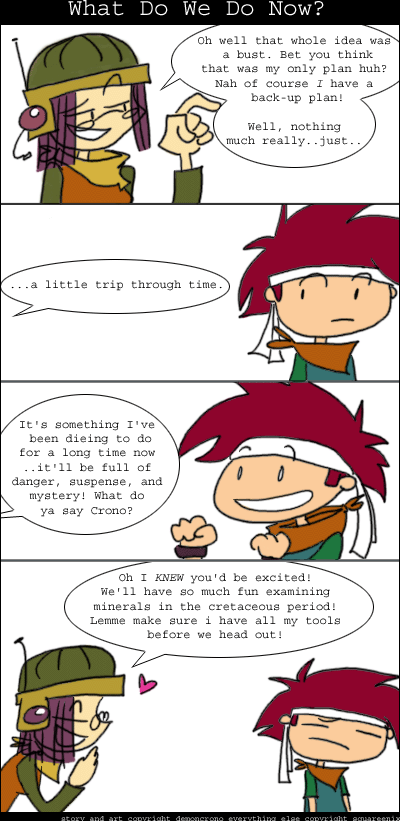 Comic #006
By: DemonCrono
Poll goes here
Historical affiliates, hosted by the Internet Archive:
Just kidding. Haha! No ads on this site.